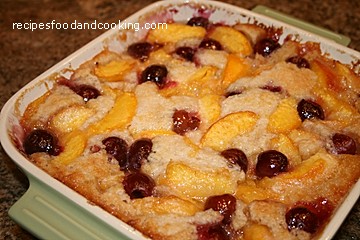 SUMMERTIME PEACH COBBLER
All week long I have been wanting my favorite peach cobbler. Today I had some extra time and decided to make it. It was worth the wait. I picked up some peaches this morning at the farmer's market, along with some more beans, eggplant and sweet corn.
Making fresh peach cobbler is easy and quick once you get your peaches done. The easiest way is to bring a large pan of water to a boil. When the water boils, quickly add your peaches to the pan. Have ready a large colander and a slotted spoon. Start removing the peaches after they have been in the water 45 seconds. Spray with cold water for a couple of minutes. Use a paring knife to remove skin, they should slip right off. Cut into slices and discard pits. If I do this early in the day I add up to 1/2 cup sugar and 1/2 t. Fruit Fresh to the bowl with the peaches (or 2 tablespoons fresh lemon juice) , cover tightly with saran wrap.